"Oil. Gas. Petrochemicals 2019", Kazan
The company "Rustechnology" September 2-5, 2019 took part in the specialized exhibition "Oil. Gas. Petrochemicals 2019" in the framework of the "Tatar Petrochemical Forum".
During the exhibition, our company presented a wide range of telemetry units and energy metering systems, as well as a number of new devices and automation software and hardware systems:
A secure server for collecting information on resource consumption is the only solution based on the protected Russian operating system Astra Linux SE (100% compliance with the import substitution program, secure program code, FSB certification, FSTEC).
Pressure / temperature sensors with integrated GSM (NB-IoT) modules and autonomous power supply are a long-awaited breakthrough in the construction of parameter dispatching systems, simplifying operating costs and increasing the safety of resource supply facilities. The low cost of the device allows the use of almost all nodes reduction.
Controlled valve with integrated GSM telemetry module (NB-IoT) and autonomous power supply - a novelty ahead of time. Allows you to connect meters and alarms (gas, carbon monoxide, leakage) and get an automated control system for the safe consumption of resources.
The BBT-1..6 telemetry modules are modern, ultra-compact, and inexpensive instruments designed for taking and transmitting readings from domestic and industrial gas, water, and electricity meters via GSM / GPRS (NB-IoT) standard mobile communication networks to an information collection and processing server.
The "Smart-Abonent" home automation system (Android, iOS) allows you to control the flow of gas, electricity, cold and hot water, heat energy, controls the microclimate (air conditioning, heating, ventilation), and also protects against leaks of natural and liquefied gas, smoke and power surges, controls flooding and water leakage.
Also, the exhibition featured a new issue of the journal with the author's analytical article of the company "Rustechnology" - "Change of Eras and Change of Approaches to the Supply of Energy Resources", dedicated to an innovative approach to the technology of customer service - consumers of energy resources and a change in the paradigm of organizing means for collecting and storing information about consumption resources.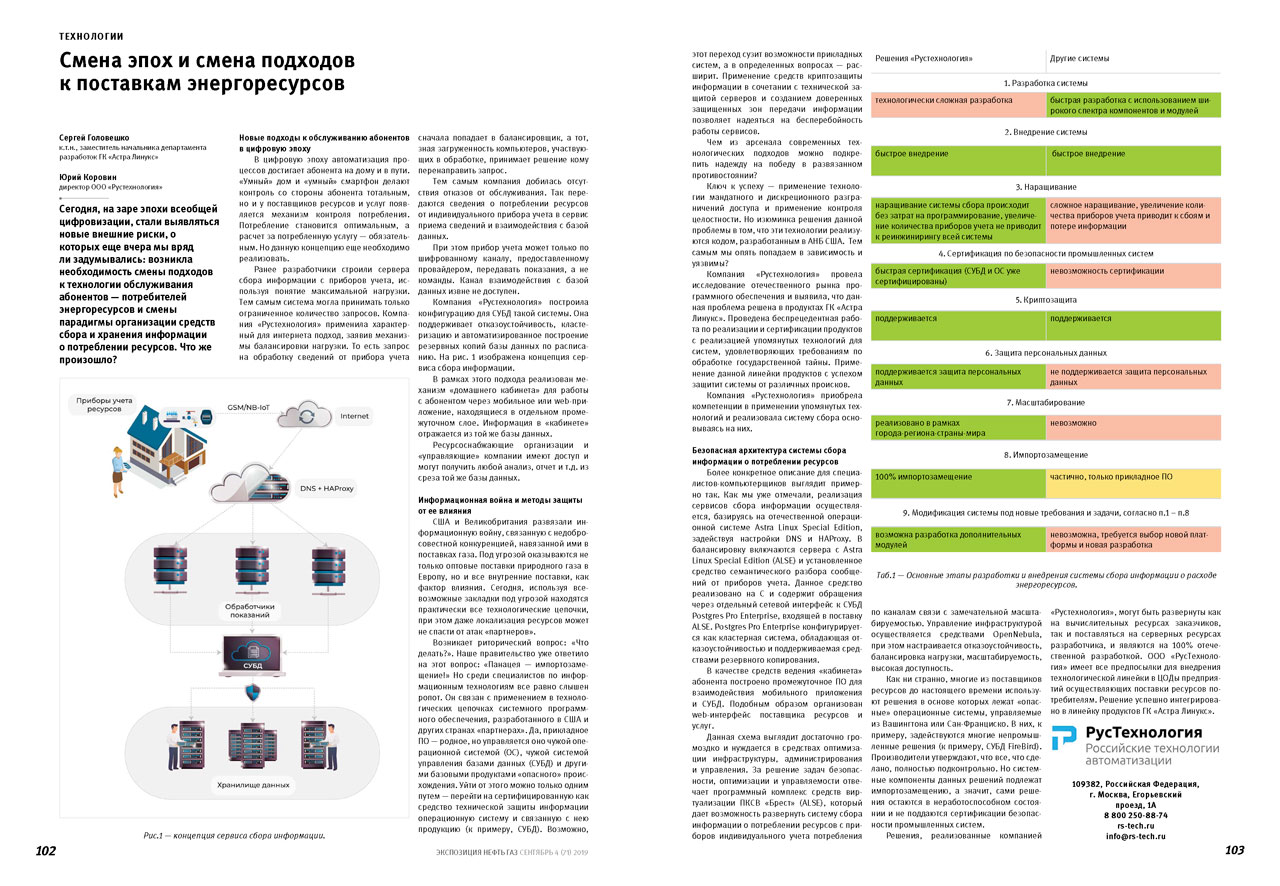 Read article